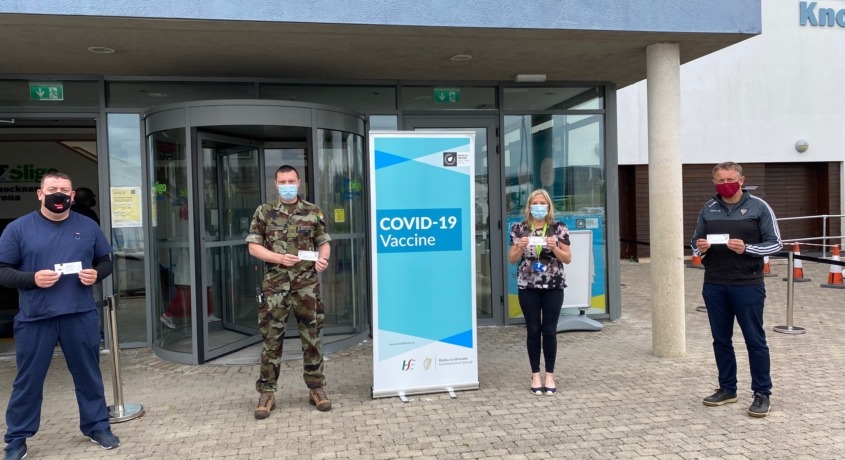 Frontline Covid-19 Workers Guests of Fleadhfest 2021
As a small gesture of support, Fleadhfest were delighted to offer tickets to frontline workers to the Knocknashee Céilí Band concert on the opening night of the festival.
20 frontline healthcare workers were able to take the night off to attend the gig at the Peace Park. These heroes and heroines, who have been battling the Covid-19 pandemic during the past 18 months, had the opportunity to attend a safe outdoor concert, the first of its kind to have taken place in Sligo this year.
All of our attendees were placed into pods, ensuring that they were within their own bubble, and at any time when they moved around the arena, masks were worn to ensure that public safety measures were adhered to at all times.
Bartley Gavin, Chair of Fleadhfest, thanked the volunteers and those who attended the events in any capacity, saying that "It was our aim from the start to bring live traditional I rish music back on to the stage, but we could only do so in a safe environment. Having worked so hard and taken all of the health advice available in recent weeks, we are delighted with how the events have gone so far. We look forward to a safe, healthy and enjoyable remainder of the weeek at Fleadhfest,"
https://www.fleadhfest.ie/wp-content/uploads/2021/08/img-4040.jpg
1512
2016
main-admin-00047
https://www.fleadhfest.ie/wp-content/themes/master/images/fleadhfest-logo-block.png
main-admin-00047
2021-08-04 22:37:37
2021-08-04 22:37:52
Frontline Covid-19 Workers Guests of Fleadhfest 2021