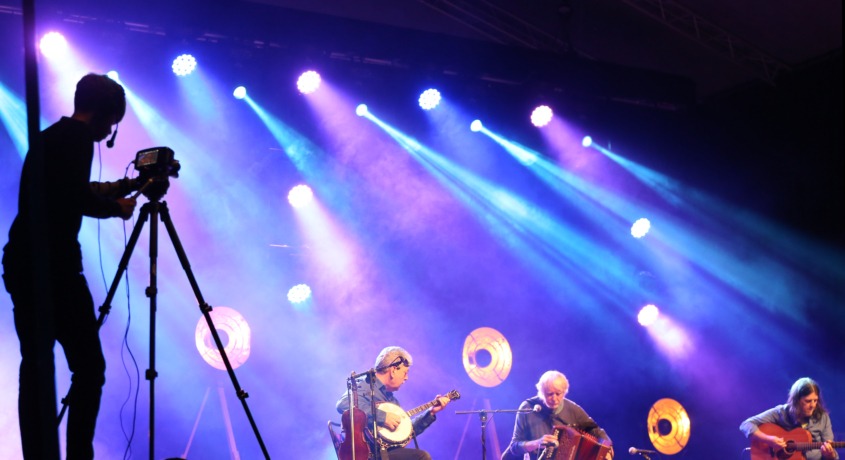 Sligo's Fleadhfest finishes on a high
Fleadhfest – the first online Fleadh Cheoil na hÉireann – has just concluded after 9 days of live concerts, sessions and competitions, which were streamed to audiences worldwide. The festival – the only traditional music festival taking place in Ireland this year – was watched by thousands of people every day and the response to the live music was both positive and widespread.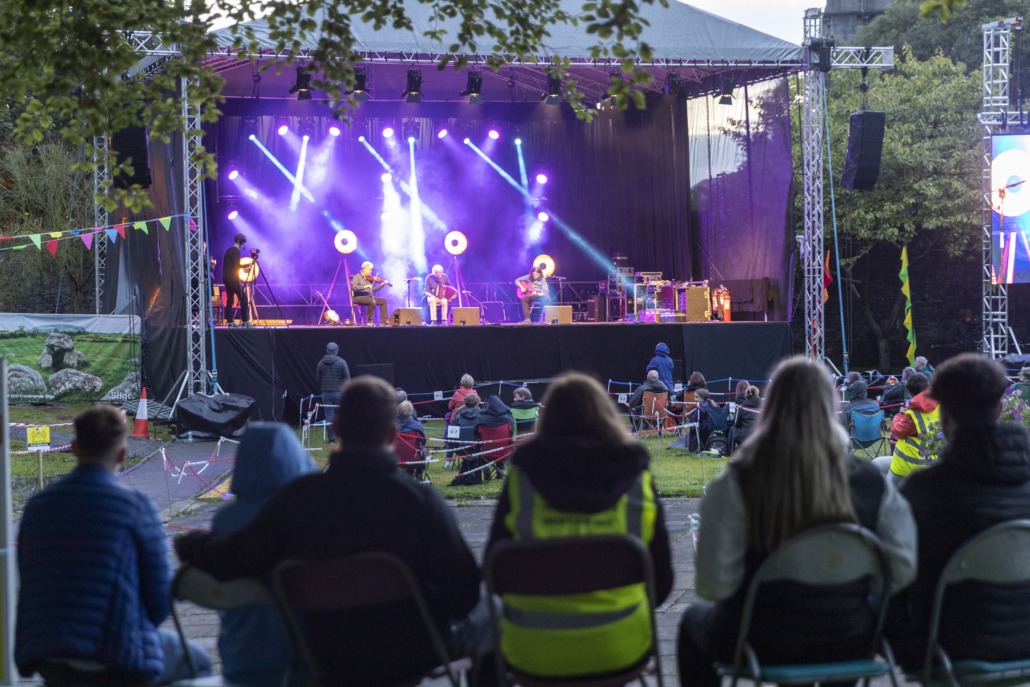 "It's a credit to the people of Sligo, and to the Fleadhfest team," said Labhrás Ó Murchú, Ard Stiúrthóir of Comhaltas Ceoltóirí Éireann. "Every aspect of Fleadhfest was carried out in the most professional manner and it was an important new chapter for us to use the virtual world to bring our music to people in many different countries."
Fleadhfest came about in response to the Covid-19 pandemic. Last year the Fleadh Cheoil, a public event which usually draws tens of thousands of people for a musical street carnival, had to be cancelled due to fears about public safety as the pandemic took hold. This year, the Comhaltas and Fleadhfest teams met early in the year to plan a new virtual event, and Fleadhfest was the result.
The concerts with big names like Dervish, Téada, the Mairtin O'Connor Trio, Moxie and the Knocknashee Céilí Band were watched by tens of thousands of people in places as far afield as Australia, Canada, Argentina, the United States, Spain, Sweden, the UK and of course all around Ireland.
"We're delighted with how everything went," said Bartley Gavin, Chair of the local Fleadhfest Committee.
"To be able to give a platform to our music was our first priority. Our second was to give a profile to Sligo. We did this throughout the programmes, and I'm sure the tourism videos we included in each broadcast brought our county to new visitors who will come to Sligo in the future."
Having also Chaired the Fleadh Cheoil na hÉireann events which took place in Sligo in 2014 and 2015, leading a group in event planning was nothing new for Bartley. But how did organising a virtual Fleadh differ from a traditional one, where the streets would have been thronged with people?
"It was certainly a challenge, but we had a fantastic group of people willing to put the shoulder to the wheel to make this happen. Under Anne Gorby's direction, we had volunteers positioned everywhere we needed them, all trained to work in a Covid-safe environment, and it is a tribute to their work that the event went so smoothly."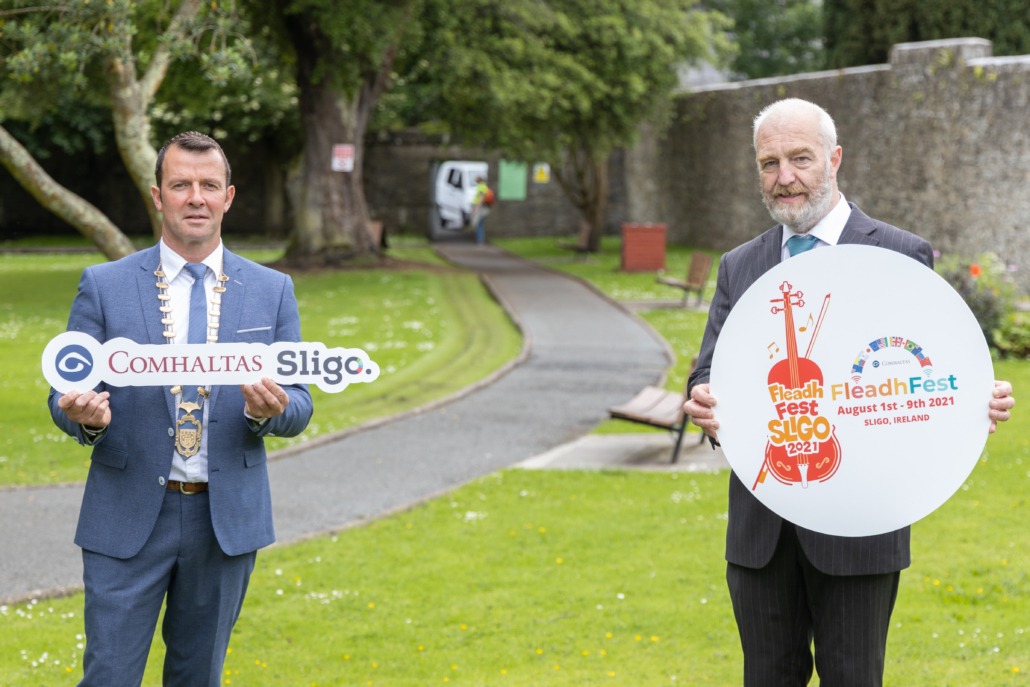 Fleadhfest encompassed many of the regular features of a Fleadh Cheoil, like concerts and sessions, as well as solo competitions in over 30 different categories. The main difference this time was that those events were streamed online, something which required a detailed programme of event planning to ensure that the viewer got the genuine Fleadh experience.
"We wanted to replicate as many of the things people usually see and hear at every Fleadh Cheoil," said producer Micheál Ó Domhnaill, who headed up the broadcast team at Fleadhfest. "We were lucky to be able to call on a great technical team – drawn mainly from Sligo – to live stream the concerts. We also recorded some content for on-demand video, and by streaming to Facebook, this meant that even if you missed the live stream itself, you had the option of watching it back afterwards."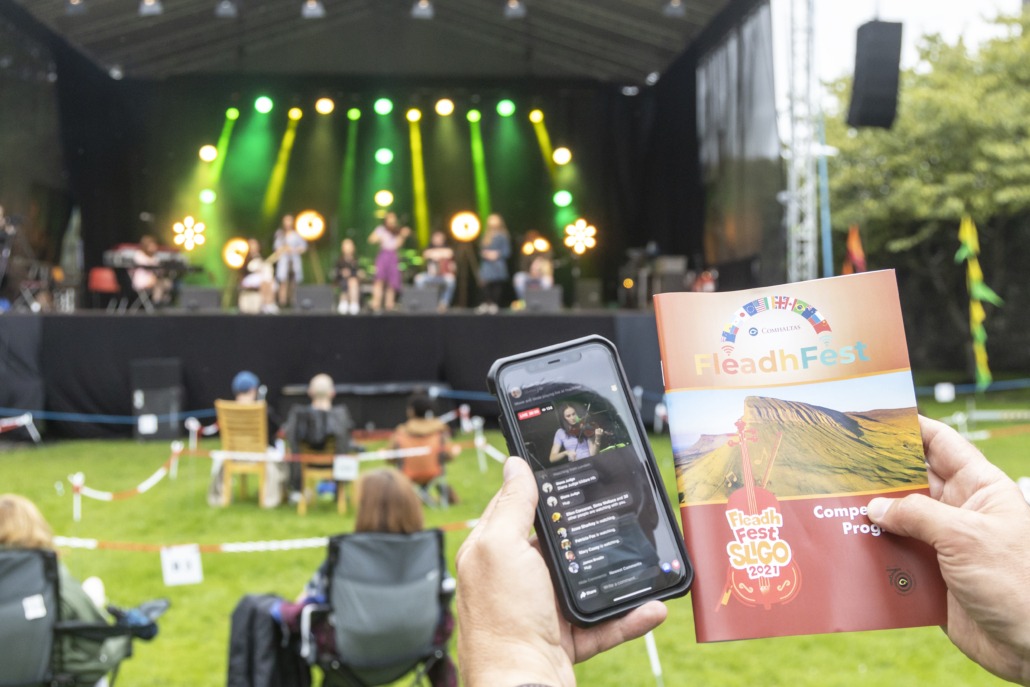 And while many of the events – from the concerts on the gig rig to the Trad@Lunch sessions at the Hawk's Well – were streamed online, the easing of restrictions also meant that up to 200 people also attended the concerts in person. Concert goers were brought by stewards into the arena and assigned their own pod, where they could sit, stand or dance, whatever their preference. And for many of those involved, musician and concert goer, this was a welcome return to some kind of normality.
"As a musician, it was such a relief to finally get back on stage," said Cathy Jordan, lead singer with Dervish, who played their first live gig in 18 months at Fleadhfest. "The Peace Park is an incredible venue for live music, and it was such a pleasure to have real people in a real venue to perform to, rather than doing everything on Zoom."
Oisín Mac Diarmada, who performed as part of the group Téada, was also a member of the organising committee, and he saw at first hand how important it was for people to get back on stage. "We have all felt a loss, not just financially, but in many other ways, by being unable to perform in the past year and a half," he said. "From those who took part in the competitions, to the younger musicians who played support on the gig rig, to the headline acts themselves, this was a great opportunity. It really gives you a chance to appreciate what you've missed when you see the responses of those in the audience when you play on stage, there was such positive energy throughout the festival."
The Fleadhfest programme was also supported by local businesses and agencies, including Sligo County Council, Fáilte Ireland, Sligo Leader and Comhaltas, and Fleadhfest Director of Finance Peter Farrell was quick to thank those who supported Fleadhfest.
"We had to fundraise in a really challenging climate, and to sell the concept of a virtual Fleadh Cheoil to businesses that might already have to face the own ongoing challenges because of the pandemic," he said. "That we managed to reach our target is testament to the goodwill in our community and it definitely helped that we had a track record in running two of the biggest Fleadhanna Cheoil in recent years. We promised our sponsors a Fleadhfest to remember, and I'm delighted that we delivered on our promises."
Fleadhfest can be watched back on the Fleadh Cheoil na hÉireann Facebook page or on Fleadhfest.ie. Many of the concerts were broadcast on multiple platforms, including broadcast partner TG4, and – while the hope is that the Fleadh Cheoil will return to normality next year when it will be hosted in Mullingar – it's likely that online programming will remain an important aspect of the Fleadh Cheoil into the future. And as for Sligo, the hope is that some time in the future – maybe nearer than we think – we could position ourselves in the box seat to once again host Fleadh Cheoil na hÉireann. And that might be one of the great legacies left by Fleadhfest 2021.
https://www.fleadhfest.ie/wp-content/uploads/2021/08/concerts-were-streamed-online-photo-donal-hackett-scaled.jpg
1709
2560
main-admin-00047
https://www.fleadhfest.ie/wp-content/themes/master/images/fleadhfest-logo-block.png
main-admin-00047
2021-08-11 22:11:05
2021-08-11 22:11:05
Sligo's Fleadhfest finishes on a high