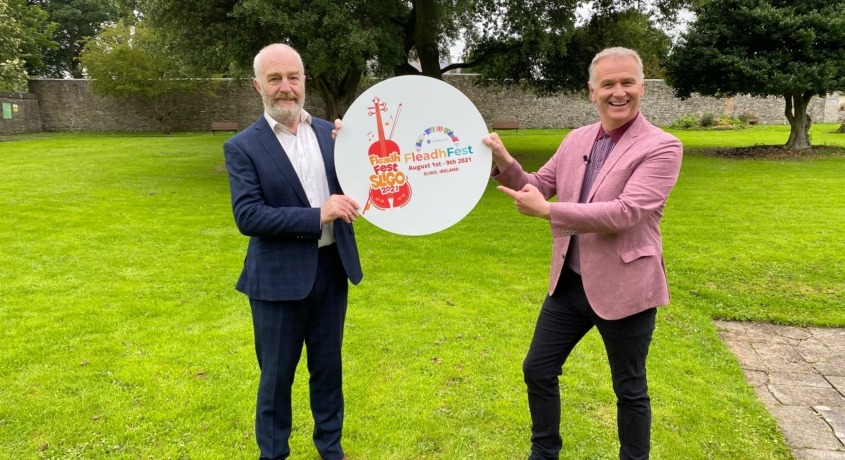 TG4 To Broadcast During Fleadhfest Week
Presenters Daithí Ó Sé and Doireann Ní Ghlacáin were among the TG4 team to visit Sligo recently ahead of their broadcasts during Fleadhfest week. Recording their programmes at places like Lissadell and the Clayton Hotel in Sligo, both Daithí and Doireann were really enthusiastic about Fleadhfest week.
"Tá sé go hiontach go mbeidh Fleadhfest ar siúl," a dúirt Daithí, who also added that while nothing will ever beat a Fleadh Cheoil, where thousands of people line the streets for music sessions and performances, Fleadhfest is the next best thing, bringing many of the Fleadh favourites to the public via live streaming.
"I think it's a great idea," adds Ireland's favourite Kerryman. "The Fleadh is something I grew up with, and we all really missed it last year due to Covid. So to have Comhaltas think outside the box and come up with a virtual Fleadh is a really fantastic initiative, and I'm so looking forward to being part of it."
Fleadhfest will partner with Irish language broadcaster TG4 for the event. TG4 have for several years broadcast live from the Fleadh Cheoil and their award winning Fleadh TV programmes have been watched far and wide. This year things will be slightly different, with TG4 pre-recording programmes which will go to air on Friday, Saturday and Sunday nights August 6th, 7th and 8th, while also streaming the competitions and concerts live on their social media channels.
"It's superb to partner up with TG4 again," said Bartley Gavin, Chair of Fleadhfest. "Our team here in Sligo will be broadcasting throughout the week by live streaming on Fleadhfest.ie. This will include evening concerts with a multitude of our greatest trad acts like Dervish and Téada, and also informal sessions with some great musicians, and Fleadhfest solo competitions. We will provide that feed to TG4 too, and they will stream throughout the week with us."
The TG4 team will be well represented throughout Fleadhfest week. Co-hosting with Daithí Ó Sé will be Doireann Ní Ghlacáin, who is also immersed in Fleadhanna Cheoil, and she is also excited by the 9 days ahead.
"It's been so hard for musicians to find an outlet for their talents," she said during the recordings. "And for Fleadhfest to offer an opportunity to musicians and fans of traditional music all around the world means that it's going to be a really innovative festival, and I can't wait for it to start! Táim ar bís ag fanacht leis an bhféile nua seo!"
TG4 will broadcast many different acts during their programmes, details of which can be accessed at TG4.ie.
For details on the full Fleadhfest programme of events, visit Fleadhfest.ie.
https://www.fleadhfest.ie/wp-content/uploads/2021/07/bart-agus-daithi.jpg
1512
2016
main-admin-00047
https://www.fleadhfest.ie/wp-content/themes/master/images/fleadhfest-logo-block.png
main-admin-00047
2021-07-22 13:04:59
2021-07-22 13:04:59
TG4 To Broadcast During Fleadhfest Week